RECLAD
16 Advance Way, Albany
Full reclad – bevel back weatherboard and schist
New double glazed joinery
Outdoor entertainment area
Modifications to decking
New pool fence
Installation of water retention system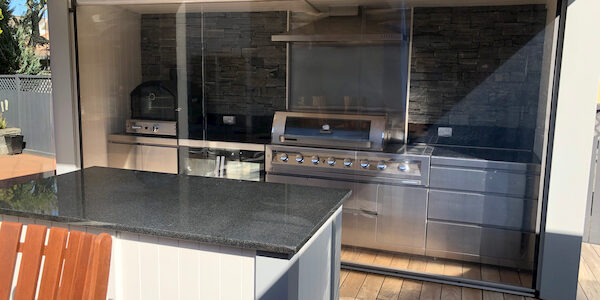 From our first engagement, it became clear to me that Platinum was run professionally, efficiently and by a team of first class people and knowing we had chosen the right builder was a weight off our shoulders.
Mark and Tricia wanted to update and futureproof their house which was orginally clad in an insulated polystyrene cladding system. They saw a house we had recently completed in the same area and decided to engage us to undertake a remediation and reclad as well as building a separate outdoor entertainment area and deck adjacent to the existing pool complex. The materials used for the reclad were primarily bevelback weatherboards on a 20mm cavity system along with some feature panels of schist at the garage front entrance and outdoor living area.  This has resulted in a unique and striking contrast between the weatherboard and the schist.
Mark and Tricia were very keen to have an integrated outdoor entertainment area so a semi enclosed entertainment and cooking area was constructed. This extraordinary outdoor kitchen includes a BBQ with vented rangehood, pizza oven, fridge and food prep areas and is fully enclosed using drop down awnings, which allows for weather protection when the area is not in use.  This area together with a significant amount of new decking links the existing pool area and the house, forming a fantastic space to enjoy with friends and family.
New fencing to the front entrance and decking around the front door completed the transformation.  There were numerous other features incorporated into this project, for example, the installation of tanks to catch rainwater which is used to supply the toilets. The moving of the pool pump shed to best utilise available land, installation of raised garden beds and the install of a granite bench directly outside the kitchen window to facilitate the transference of food and drinks are more examples of how communication between client and builder can result in a beautiful and functional home.
This was a really interesting build for us and one that we are exceptionally proud of. The clients were very creative and great communicators and were also very receptive to any ideas we threw their way.
Client Testimonial
In 2014, we contracted Marty from Platinum Pacific Reclads after looking through a recently reclad home Marty's team had completed in Albany, to undertake a major re-clad and transformation of our family home in Albany.
From our first engagement, it became clear to me that Platinum was run professionally, efficiently and by a team of first class people and knowing we had chosen the right builder was a weight off our shoulders.
Platinum is a strong blend of commercial savvy with personality.
The key people involved in this project, Marty, Richard and Theresa were polite, they listened well, studied what we had designed and their skill and experience was clearly evident in our discussions and they assisted us through some difficult engineering issues and architectural problems with a level of skill that can only come from extensive building experience. They made really good suggestions as the job progressed and they project managed all parts of the job through to completion.
They were their own toughest critic on quality so we didn't need to worry, and the outcome is stunning. The end result far exceeded our expectations. They impressed us with their detailed costing schedules and project timelines. When it came to the building, they achieved their timeline and the budget. And as we added more to the initial brief, as we travelled along this journey, they took it all in their stride. Their quality standards are impressive and their sign off checking process with ourselves was impressive to say the least. Richard who manages the sub-contractors and any after completion issues has been a pleasure to work with.
As someone who has spent 40 years in senior advertising roles where you're only as good as your last job, I was impressed with the whole management and transparency that Marty and his team provided.
The outstanding result is testimony to Platinum's passion for quality and professional integrity. We have already used them again at our daughter's house and would recommend Platinum to anyone considering a high-quality family owned construction company. They have our absolute admiration and endorsement.