RECLAD
12 The Ritz, Orewa
Reclad to upper level of home
New double glazed joinery
Minor internal alterations
Remove deck to master bedroom
Installed Louvretec system to outside deck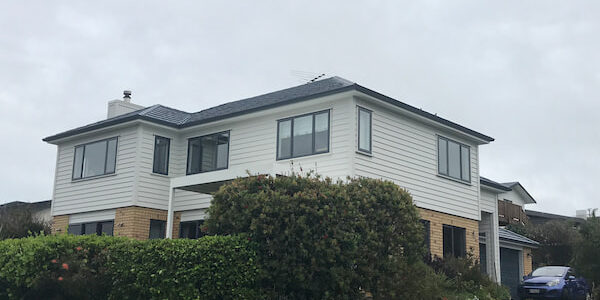 The team led by Richard were extremely approachable and we totally enjoyed our build with them. I wouldn't hesitate in recommending this team to anyone wanting renovate in the future.
Paul and Karen built their lovely home in Orewa in 2002 and have lived there ever since. The new build consisted of a mixture of polystyrene plaster system cladding and brick.
Although they had never had any leaking issues, Paul and Karen were aware of the stigma of direct fix polystyrene cladding and were keen to future proof their house to ensure weather tightness into the future as well as making it a more attractive option for a potential buyer. They decided to keep the brick cladding on the lower level and replace the polystyrene cladding on the upper level with horizontal timber weatherboard, with new double glazed joinery.
Paul and Karen also decided to make a couple of minor changes to their home in order to maximise the livability and flow of the home. The deck off the master bedroom was hardly used so it was an easy choice to remove the deck and extend the bedroom space.  This has given them an extensive master bedroom which has a fantastic view over Orewa.
To improve the outside area downstairs, a new Louvretec system was installed over the existing deck.
"Our builders made a number of other suggestions to enhance the final outcome including a modern front entrance and incorporating new storage space over the front door area affectionately named the "snitch room" due to its unique access via a hidden door in an upstairs bedroom and these were incorporated seamlessly into the build."
The homeowners and builders alike are very happy with the outcome of this project!
Client Testimonial
We have recently had our house renovation completed by Platinum Pacific Group of builders and we are extremely happy with our outcome.
We were lucky enough to be able to stay downstairs while the renovation was in progress and the builders were great to deal with. Suggestions made to enhance our final outcome but never too pushy. Every morning, 6.50am we would hear the container door open, the front door unlocked and then you'd hear whistling to announce their arrival.
The team led by Richard were extremely approachable and we totally enjoyed our build with them. I wouldn't hesitate in recommending this team to anyone wanting renovate in the future. We would like to recommend Platinum Pacific for your building requirements
Karen and Paul Wilson